LA GRANDE ALA - "LO STORMO DEGLI AMICI DELL'ANIMA"
THE BIG WING -THE FLOCK OF THE FRIENDS OF THE SOUL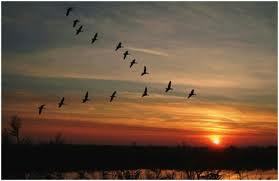 ***********************************************
La Grande Ala: tutti, non uno di meno

"La Grande Ala è amore, e amore è felicità...
Andate avanti nel vostro volo... Andate avanti con entusiasmo.
Andate avanti, e siate in pace!"
(L.A. Tartaglia, La Grande Ala)
Insieme, uniti, come le dita di una stessa mano. Come le anatre di uno stesso stormo. Tecnologia del volo collettivo. La prima anatra si lancia e apre la strada alla seconda che indica il percorso alla terza, e la spinta della terza fa spiccare il volo alla quarta, che trascina la quinta, e lo slancio della quinta provoca il volo della sesta, che fa coraggio alla settima...
Quando l'anatra esploratrice si stanca, raggiunge la coda dello stormo e lascia il posto a un'altra che risale alla punta di questa V capovolta che le anatre disegnano in volo.
Tutte a turno prenderanno la testa e la coda del gruppo.
Nessuna anatra si considera un animale "super" per il fatto che vola davanti, né un animale "minus" se vola in coda.
Insieme......
Insieme, nell'imparare, ci accettiamo per quello che siamo.
Insieme, acquistiamo forza ed energia,
sempre chiaro sia il nostro capire.
Uniti gli uni agli altri.
Senza odio.

Om, pace, pace, pace.
------------------------------------------------------------------------------------
The Big Wing: all, not one less

"The Big Wing is love, and love is happiness ...
Go forward in your flight ... Move forward with enthusiasm.
Go ahead, and be at peace! "
(L. A. Tartaglia, The Big Wing)

Together, united as the fingers of the same hand. As the ducks of the same flock. Flight of Technology Collective. The first duck launches and opens the way for the second indicating the path to the third, and the thrust of the third does fly in the fourth, which drags the fifth, and fifth causes the momentum of the flight of the sixth, it takes courage to seventh ...
When the duck gets tired explorer, reaches the tail of the flock and gives way to another that goes back to the top of this inverted V that draw ducks in flight.
All in turn take the head and tail of the group.
No duck is considered an animal "super" to the fact that flies in front of, or an animal "minus" if it flies in the queue.

Together ......
Together, in learning, we accept each other for who we are.
Together, more strength and energy,
always clear is our understanding.
Joined to each other.
Without hate.
 
Om, peace, peace, peace.